Bulletin Board
LATEST
_________________________________________________________________________________
Awatoto Update – progress is being made. The insurance claim on the shed is in but we ask you keep clear while the insurance company follows due process. The council are making headway into the clean up along the stop bank and around the Deans Shelter. Lance is in contact with the council and we will follow their direction as to when we get access to the field. When we get the green light for that we can have a working bee with a BBQ and maybe some of Barrie's world famous Lemonade Scones.
Marty – President – MFHB
_________________________________________________________________________________
COMING EVENTS
Marty has arranged the following events for you to participate in:
Sunday 4th June – Slope Soaring / Roys Hill
Sunday 11th June – Roys Hill
Sunday 18th June – Norsewood
Wednesday 21st June – Clubnight at the National Services Club
Sunday 25th June – Roys Hill
Sunday 2nd July – Norsewood
_________________________________________________________________________________
Due to severe damage as a result of cyclone Gabrielle, the Awatoto Field is currently Unusable and will, of course, be CLOSED until further notice.
Marty Hughes – President MFHB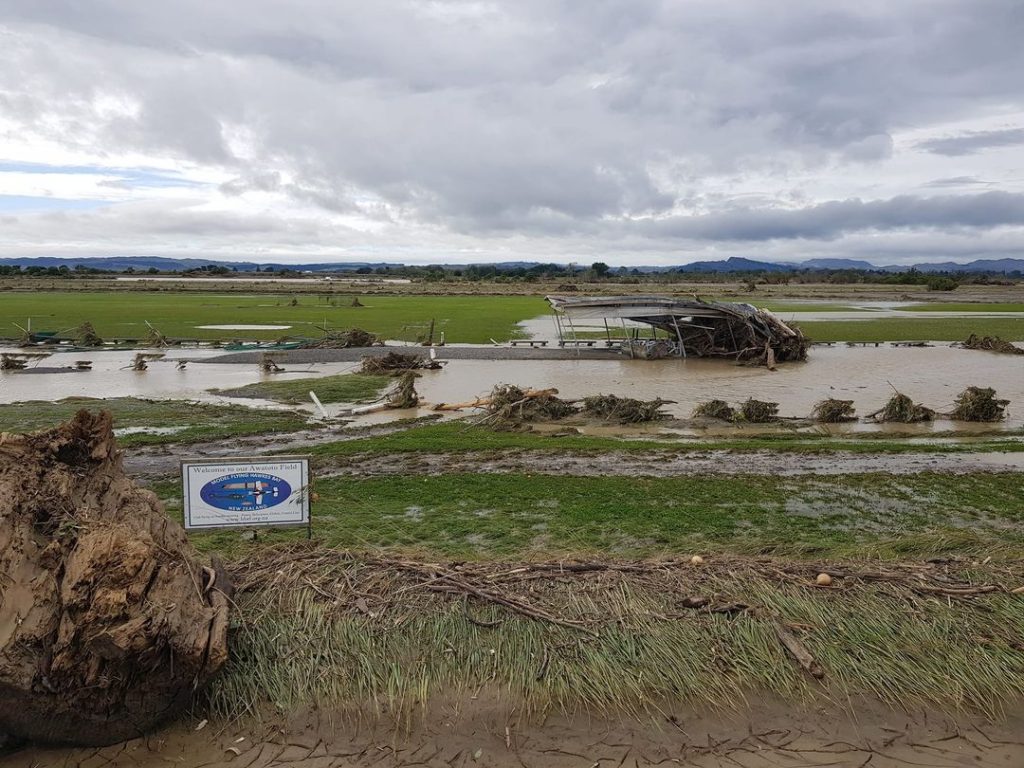 (Awatoto Field as of 15-02-2023 around 2pm. Photo thanks to Derek Whelan.)
______________________________________________________________________________
Awatoto Field Web Cam and Weather Station.
Note: the Field Webcam and Weather Station are both currently Out of Action, due to circumstances beyond the Club's control. We will let you know when they are back functioning again.
Welcome to the MFHB Website
Model Flying Hawke's Bay (MFHB) has had numerous flying sites over the years thanks to the help of the local farming community and other interested groups and Aeromodelling enthusiasts in The Hawke's Bay were encouraged over 70 years ago to form a group to promote the many types of aeromodelling activities available.The first club in the district was The Hastings Model Aeroplane Club followed by a similar group in Napier. Subsequently The Hawke's Bay Radio Flyers Inc. Was established from members of both groups to form a solid base for the future of the sport in the Hawke's Bay and District.
In 1992 the club was introduced to its present flying site by The Hawke's Bay Regional Council, this is a splendid facility at Awatoto, off Waitangi Road, beside the Fertilizer Works just 6 kms South of Napier City. Recently the club has included drone activity at Awatoto, providing a safe and controlled environment for the flyers to test their skills out.
The club also have a gliding field near Black Bridge, Haumoana.
MFHB publish a monthly NEWSLETTER which will be on this Website, covering the recent activity within the club, together with news, model building reports, items to buy or sell, and articles from the wider aeromodelling community. The current copy can be accessed from the main at the top of this page, or by clicking here.
Our Sponsors
This section is an acknowledgement of their generosity and on going
support. It is our opportunity to say "Thank You" to the following: